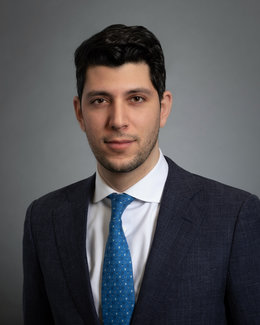 Jonathan Simeone, CIM®
Investment Advisor
Jonathan is among Montreal's most dynamic Investment Advisors. Founded by Jonathan, The Simeone Group of Assante Capital Management Ltd. has been servicing clients in Quebec and Ontario for over a decade. Previous to Assante, he has worked as an analyst in business valuation for Deloitte Canada, and worked as a day trader negotiating future contracts of the S&P/TSX and Canadian Bond Index.
He has an extensive knowledge of the global financial market mechanics and deep understanding of estate planning and tax efficient strategies. Jonathan and his team work with professionals, business owners and retirees alike to help them save taxes and transfer assets to the next generation. Jonathan has completed his Canadian Securities Course and Wealth Planning Course, and has his Chartered Investment Manager (CIM) designations. He is actively involved in the Canadian Breast Cancer Foundation.
Jonathan is securities licensed and well positioned to recommend independent mutual funds and individual securities such as stocks, bonds and ETFs.
Sam El-Chaer
Senior Investment Advisor
Sam has been advising wealthy families since the turn of century. He has extensive experience working for high net worth families to help them growth their wealth and conserve their estate for generations.
"Planning for your financial future is more than just looking at numbers.
To me, it's the people and dreams behind the figures that matter the most.
As an Assante advisor, I can help you gain peace of mind and achieve your dreams for the future. Whether it's a worry-free retirement, saving for your children's education, fulfilling a lifelong ambition, running a prosperous business or leaving a legacy to your loved ones or a cherished cause, I can work with you every step of the way.
Managing your wealth can be complex and time-consuming. I can simplify your life by addressing all aspects of your financial well-being from investments and insurance to tax and estate planning. Supported by our team of professionals including lawyers, tax accountants and financial analysts, I can help you make the right decisions about your wealth, and help you build the future you desire."
Sam El-Chaer of the El-Chaer Group | Assante Capital Management Ltd.
Corinna Kyle
Administrative Assistant
Corinna has been a vital member of the Simeone Group responsible for day-to-day operations and administrative duties. As our administrative assistant, she works closely with clients to provide prompt and accurate responses to all client inquiries and requests.
ckyle@assante.com
Phone: (514) 832-5179
Benoit Henault, CFA
Associate Investment Advisor
Prior to joining Assante, Benoit held the role of trader at National Bank Financial and W.D. Latimer Group.
Benoit holds the Chartered Financial Analyst (CFA) designation from the CFA Institute and a master's in business administration (MBA) from the Goodman Institute of Investment Management of the John Molson School of Business (Concordia University). Benoit helps the team with security selection and monitoring.
Chloe Ajamian
Financial Security Advisor
Leave a Note
Please fill out the form below