Tina Tehranchian, CFP®, CLU®, CH.F.C.®, CIM®, MFA-P™ (Philanthropy)
Senior Wealth Advisor
Assante Capital Management Ltd.
A financial advisor since 1991, Tina Tehranchian, BA, MA, CLU®, CFP®, CHFC®, CIM®, MFA-PTM (Philanthropy), is a senior wealth advisor at Assante Capital Management Ltd. She specializes in assisting business owners and self-employed professionals grow their wealth and develop sound financial and estate plans. She is also an expert in devising charitable tax planning strategies and helping philanthropic Canadians multiply their bequests to charities while reducing their taxes and leaving greater inheritances for their beneficiaries.
Tina is a FP Canada™ Fellow (formerly Fellow of FPSC™) and was among the first-ever group of Certified Financial Planner (CFP®) professionals in Canada to receive the Fellow of FPSC™ distinction from the Financial Planners Standards Council in 2011.
In 2021, Tina became the first woman and the first Canadian to be selected as the Top Senior Wealth Advisor of the Decade by the International Association of Top Professionals (IAOTP) and in 2020, Tina became the first Canadian to be selected as the Top Senior Wealth Advisor of the Year by the same organization. Amongst the numerous other awards she has received are the Women's Executive Network's Canada's Most Powerful Women : Top 100 Award (2020), Wealth Professional Awards Canadian Advisor of the Year Silver Award (2020), Women in Finance Awards Canada's Financial Advisor of the Year Award (2019), The International Alliance for Women's World of Difference Award (2019), and the Brilliant-Minded Women Foundation's Award for Supporting the Arts (2017).
Tina is often quoted as an expert in her field in major newspapers such as The Globe and Mail, The Toronto Star, The National Post, and The Wall Street Journal, as well as industry-specific magazines like The Investment Executive and The Insurance Journal. She has also been featured on national radio and television stations including BNN, CBC, and CTV as a financial planning expert, and is a frequent contributor to the Canadian Business Journal. In addition, Tina has taught personal financial planning at Centennial College's Centre for Entrepreneurship for over a decade.
Since 2000, Tina Tehranchian has helped raise over $2 million for various charities and has served on the boards of The McMichael Canadian Art Collection, the Mackenzie Health Foundation, the Fort York Foundation, Seneca College, Art Canada Institute, and the Encyclopaedia Iranica Foundation, amongst other charities. She currently serves on the Fundraising Advisory Board of The Princess Margaret Cancer Foundation and is the chair of the ONE LIFE gala committee, a fundraiser in support of the Foundation.
Marylou Heenan
Financial Advisor
Marylou is a Financial Advisor and a Certified Cash Flow Specialist (CCS™) and joined Tina's team as an associate advisor in September 2018. She provides her clients with strategies and a written plan for managing their cash flow to create wealth at all stages of their lives and effectively plan for the future.
Marylou is a trilingual entrepreneur who was for many years active in the educational field and successfully transitioned to Financial Services. She knows the challenges of running a profitable business, minimizing taxes, converting dividends to personal wealth, and dealing with risk and return.
905-707-5220 ext. 2228 | mheenan@assante.com
Megan Pirhadi
Senior Administrative Assistant
As the Richmond Hill branch's senior administrative assistant, since 2001, Megan has been looking after all administrative aspects of clients' accounts, from processing trades to preparing the paperwork for new and existing accounts and preparing packages for client meetings. As a senior staff member, Megan also assists in training new members to ensure the integrity and efficiency of business operations.
Prior to joining Tina's team, Megan had worked for over a decade in global banking and finance. She holds a Bachelor of Arts degree and has successfully completed the mutual funds operations course and the LLQP course for qualifying for a life insurance license. She is also currently enrolled in the Canadian Securities Course.
Megan takes pride in providing superior customer service to our clients. In her spare time, she enjoys sports, photography, nature and travelling.
905-707-5220 ext. 2231 | mpirhadi@assante.com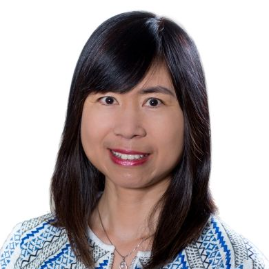 Fiony Lau
Investment Services Associate
Marketing Assistant
With extensive experience in office administration in the private, public, and non-profit sectors, Fiony has been with Assante's Richmond Hill branch since 2015. She is responsible for handling all client service tasks, including processing trades, updating account information, and preparing packages for client meetings. She also coordinates major events and seminars, keeps track of compliance for marketing materials, coordinates the training of new team members, and manages the back end of Tina's website.
Fiony has successfully completed the mutual funds operation course and the Canadian Securities Course. She enjoys reading, hiking, travelling, and making healthy dishes for her family. Her passion is to promote healthy living and protect the environment to better the world we live in.
905-707-5220 ext. 2232 | flau@assante.com
Sabine Boyd
Administrative Assistant
As the receptionist at the Richmond Hill branch, Sabine is the first point of contact for our clients. She is also an administrative assistant and is responsible for a wide variety of administrative tasks. Sabine has over thirty years of experience in the financial sector and brings with her many years of experience in client service. One of her biggest passions in life is helping others, which makes her a great fit for Tina's team. Sabine helps in the Girl Guide of Canada organization with special meetings for the girls and leaders of the 614th Units. She also helps with the North York Hockey league, as a door person at the games during their hockey season. In her leisure, she likes to go camping. She likes to do hand crafts - embroidery and crochet projects as well as reading.
905-707-5220 ext. 2221 | sboyd@assante.com
Leave a Note
Please fill out the form below